Full Metal Jacket
Dir: Stanley Kubrick

UK/USA, 1987, 116minmins, DCP

Cast: Matthew Modine, Vincent D'Onofrio, R. Lee Ermey
Stanley Kubrick once again trains his unique cinematic lens on the dehumanising nature of war in this blistering adaptation of Gustav Hasford's The Short-Timers . Fresh-faced US Marine recruits are shorn like sacrificial spring lambs, then stripped of their dignity and identity by a terrifying drill sergeant (the recently deceased R. Lee Ermey in the role of his life). The once-innocent youngsters are transformed into dead-eyed killing machines, forced into respecting their weapons like women, before being shipped off to Vietnam. Kubrick transformed London's Isle of Dogs into a bombed-out Asian hellscape, teeming with unseen enemies and reprehensible rhetoric. Yet amidst this nightmarish vision, he captures moments of great beauty and diabolical humor, not to mention the single greatest sniper attack put on film. Unfairly maligned, Full Metal Jacket deserves to rank amongst the filmmaker's very best work.
1989 Kinema Junpo Awards, Best Foreign Film Director
26.8.2018(SUN): Post-screening talk with Long Tin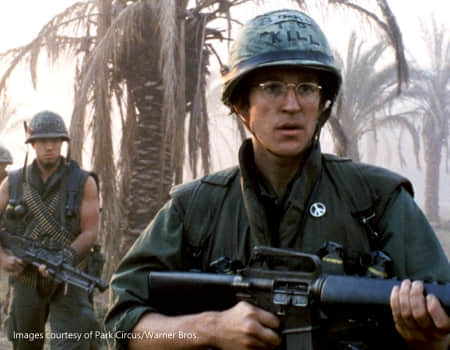 Screening:
In-theatre Screening
Buy Tickets
2018-08-18 (Sat)
21:45
Full House
2018-08-26 (Sun)
14:30
Remarks
1. Unless otherwise stated, all films (except English-speaking films) are subtitled in English.
2. Screenings at ALL commercial cinemas: Tickets are available at URBTIX till 5pm one day before respective screening, after which tickets will be available only at the box office of the respective venue on the day of screening, subject to availability.
3. Screenings at HK Arts Centre: Tickets are available at URBTIX until one hour before the screening, after which remaining tickets will be sold only at the door.
4. Screenings at M+ Cinema: No tickets will be sold at the door. Tickets are available at URBTIX outlets until one hour before the screening, after which tickets will be available at URBTIX website or mobile app only. Ticketing services for respective screening will not be available after the screening begins.
5. While it is the HKIFFS's policy to secure the best possible print of the original version for all its screenings, the HKIFFS appreciates its patrons' understanding on occasions when less than perfect screening copies are screened.